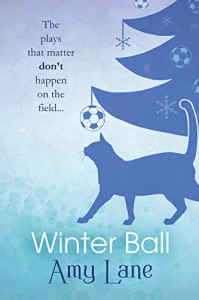 Amy Lane is quite possibly shelter from the storm. I don't think I've ever read an Amy Lane book that I didn't love...forget like with Ms Lane it's all about the 'love' and Winter Ball has quite possibly become one of my favorites.
For me this was just simply a story of 'we love who we love'. The MCs were perfect...sorry, no other word describes them for me. The secondary characters Carpenter and the rest of the soccer team, Mason and his brother were all fabulous and Hazel let's not forget here and then we have Ritchie's family...ok, I was going to have a little rant here but instead I'm going to stick to the story. To say that Ritchie's family is dysfunctional is an understatement and then some. Mostly though I have to admit my anger is directed at his father. Ritchie was his son and he failed him miserably. That he thought he had the right to have any expectations at all of Ritchie only speaks to his arrogance. Ritchie's behavior in light of his family situation only speaks to the quality of his character and how little his own father knew him.
What I liked the way Skipper (or Christopher) and Ritchie's relationship developed. I liked that once they figured out they wanted to be more than just friends neither of them played the 'come here, come here, get away, get away' game. Instead we got to see the little things that they started doing that added to and helped build their relationship...such a nice change and so much sweeter. The conversations between these two men both in and out of bed were so real and believable and the fact that once they figured things out they were all in...trust me every chance they got these two were in each others pants and sometimes for me if this part isn't done right it becomes a little tedious, no worries here. The sex between these two from start to finish was hot and sexy and sweet and just right. Enough to show that the physical attachment was in sync and reflective of the emotional bond that had and was continuing to develop between these two. In other words it was just right.
Ok that's it. I'm done now if you need more info/reviews on this book than go here...
https://www.goodreads.com/book/show/27991851-winter-ball and check out Todd's Review (it's his fault that this one jumped line in the TBR list) and from there you can just keep going and read all the other terrific reviews that are already there.