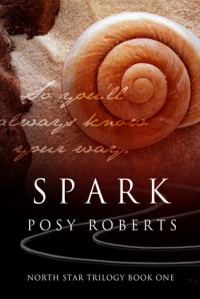 'Sparks' is the third book that I've read by Posy Roberts the other two were 'Feathers From the Sky' and 'Fall Into You' both of these books were 5 star reads for me. They were so fantastic. So I have to wonder if maybe my expectations were a little over the top with this one.
While I didn't find myself becoming as absorbed with 'Sparks' as I was with 'Fall Into You' neither was it by any means a bad story. 'Sparks' is the beginning of a trilogy so it gives us a lot of background in the form of memories that the MCs share with us and I really, really liked that.
Those shared memories that gave me the history between these two men were the thing that I loved about this book the most. My personal preference is for books where I get to be a part of the relationship from the beginning and in spite of the fact that this book starts off when Hugo and Kevin are adults. It's the memories that are shared with the reader that made me feel like I'd been a part of this story from the beginning when Hugo and Kevin meet as teenagers rather than coming into the story when they are reunited as adults years later. Unfortunately the glimpses back to Hugo and Kevin's beginnings also made things move a little slowly at times, as well.
The collection of secondary characters were nicely portrayed for me as I got enough story to get a sense of them and how they fit into the MCs lives and what they added to the story. I really liked Hugo's family and his friend Summer and I felt bad for Kevin's mom. She was a lady in a difficult situation often caught between Kevin and his father and wanting to do the right thing for both of them. Hers was a juggling act that no one should have to do but many often find themselves having to and did I mention that she was married to Kevin's father...yeah, I really felt bad for her.
While I didn't feel as emotionally invested in Kevin as I did with Hugo, I find that as a couple I like them and I definitely want to read more and see how these two men deal with the challenges that life certainly has in store for them.
'Sparks' wasn't as strong of a story for me as others have been it was definitely a solid story worth reading and held my attention while piquing my curiosity enough to make me want to read more. So it's happily on to book #2 Fusion for me.