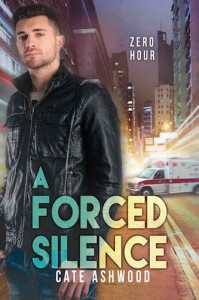 I've been wanting to read or listen on audio as was the case here to something by this author for quite a while now. So when I saw 'A Forced Silence' on audio and Scott R. Smith was the narrator. I was intrigued a new to me author and a new to narrator. This was going to be an adventure and I was looking forward to it.
Unfortunately my adventure turned out to be not so epic. 'A Forced Silence' had so much potential for me...enemies to lovers, coming out and second chances I was ready. Adam Carson and Sam McKenna went to school together. Adam tormented Sam and made his school years miserable. But that was years ago and both men have changed. Sam's out and Adam's firmly ensconced in the closet, but somehow these two men find themselves drawn to each other and a relationship begins.
While the story itself appealed to me it was Adam and Sam and the overall dynamics of the relationship that just didn't work for me. I really didn't feel the connection between them and their banter not only didn't work for me, but at times I was actually a bit put off by their interactions. Overall as a couple these two guys just didn't work for me.
Add in the fact that while for the most part the narration was ok, there were times that it lacked the consistency that I really appreciate in an audio book. At times I just couldn't hear enough distinction between some of the voices and it left my brain scrambling to catch up and figure out who was speaking which tended to yank me out of the story.
I'm not sure if it was the just the story that wasn't working for me or the narrator or a combination of both...so, while I'll definitely give try something else by this author and the narrator as well...just maybe, not at the same time.